Victor Hugo's adventure at the bistro aims to bring the theatre back into direct contact with the spectators, as if they were settling down somewhere where daily exchanges take place: the bistro. Through the evening's performance, Jacques Weber turns the use of this authors's haunts upside down. Armed with his Hugo, the actor offers another way of doing theatre that is like the bistro itself— spontaneous and impromptu.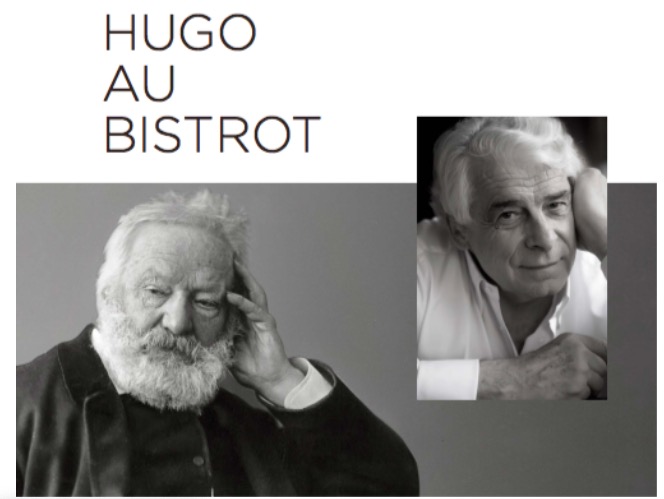 HUGO AT THE BISTRO
Performed by Jacques WEBER
With the participation of Magali ROSENZWEIG
Text: Victor Hugo
Adapted by Christine Weber
Production: Veilleur de nuit
From April 18 to May 5, 2018 at 7PM (Wednesday to Saturday)
Victor Hugo has been silent for 132 years and yet his texts resonate with us more than ever. The author of "Les Miserables" and "The the Last Day of a Convict" put his pen to the service of the debate of ideas. For Jacques Weber, "Hugo saw in a thousand ways— inside, outside. Hugo writes and speaks to us in the living and still provokes great conversation. The world asks of him and he responds in all kinds of ways. How often do his breath and his rhythm come to the aid of leaders of all kinds today? At a time when the Republic is looking for itself, we want to give voice to one of its protective heroes. Let's take the time to listen to 'the sacred dreamer."
If Hugo gives a literary taste to the spectator at the "bistro", the gourmet in him is expected to follow suit with a performance at the starred table of Chef Julien Roucheteau, who will create a special menu in honor of the play. Expect classics of French gastronomy as well as favorite dishes of the actor, such beef stew with marrow with wild herbs, as well as rack of roasted lamb, accompanied by Viennese greens and a garbure of small vegetables in homage to spring. And to end on another gourmet note, look forward to the chocolate soufflé from the Opéra chocolate factory, which will undoubtedly delight all taste buds.
ABOUT JACQUES WEBER
Having trained at the National Conservatory of Dramatic Art in Paris, Weber has won the unanimous prize of excellence, but refuses to return to the Comédie Française. In the theatre, he has performed with R. Hossein, J. Savary, J-L Barrault, G. Retoré, J-L Boutté, J. Lassalle, J-P Vincent, R. Planchon, H-P Cloos, P. Stein, J-LMartinelli, and A.Françon. He has directed, among others, "Les Fourberies de Scapin," "Le Nephew de Rameau," "La Mégère Tamed," "Monte Cristo," "Le Misanthrope," "Le Tartuffe," "Une Journée Particulière," "Cyrano de Bergerac," "Phèdre," "The Old Blonde Jew," and "Ondine." In the cinema he has played among others under the direction of Costa-Gavras, Y. Boisset, L. Buñuel, P.Labro, J-C Tacchella, C. Lelouch, M. Bellochio, J-P Rappeneau, E. Molinaro, P. GarnierDeferre, F. Girod, C. Corsini, E. Mouret, E. Bourdieu, Maïwenn, A. Chabat, Becker, G. Mordillat, and Danis Tanovic. In television he has performed in "Mauprat," "The Rebels," "The Count of Monte Cristo," "The Wild Ponies," "Bel Ami," "Antoine Rives," and "Joseph the Rebellious." He won the César Award for Best Supporting Actor in "Cyrano de Bergerac" by J.P Rappeneau and directed the Drama Center of the 8th arrondissement in Lyon for six years and the Drama Center in Nice for 15 years. He directed "Don Juan" for the cinema, as well as "The Misanthrope," "Ruy Blas," and "Figaro" for television. He wrote "Little Corners of Paradise" (Ed. du Cherche Midi), "Cyrano, My Life in His Own" "The Burn of Summer" (Ed. Stock), and soon, "Living in Bourgeois Thinking in a Demi-God,"a romantic biography of Flaubert (Ed.Fayard).
ABOUT MAGALI ROSENZWEIG
After having completed the Perimony courses, she participated in "The Misanthrope," the first production by Loïc Corbery. She then met Jacques Weber who directed her in "Cyrano," "Phèdre," and "Ondine." She is his partner in "Sacred Name of God!" and in "Débats 88" alongside François Morel. She also performed "Juliette," directed by François Roy, as well as two original creations by Caroline Duffau. Since 1999 she has lent her voice to many cartoon characters and songs.
ABOUT VEILLEUR DE NUIT
Veilleur de nuit is a production company created in 2005 by Jean-Marc Giri with the goal of developing creative documentaries addressing subjects with high stakes while being demanding of the genre. Veilleur de nuit notably produced Jonathan Littell's film "Wrong Elements," which was selected for the Cannes Film Festival, and "Irak, L'ombre de la guerre" by Anne Nivat for television. In 2011, at the instigation of Jean-Charles Morisseau, they produced "September 11, 2001" by Michel Vinaver for the theatre, along with the documentary "From One September 11 to Another" in which director Guy Girard follows a group of high school students from Seine-Saint-Denis who re-experience the event by performing the play directed by Arnaud Meunier ten years after the attacks.