For the decor, La Scène Thélème gave carte blanche to visual artist Johnny Lebigot. Suspended from the walls and from the ceilings … discover the enchanting universe imagined by this engaging contemporary artist. Inspired by the pure, airy cuisine of Yoshitaka Takayanagi, Lebigot presents a series of fascinating, spider-like installations.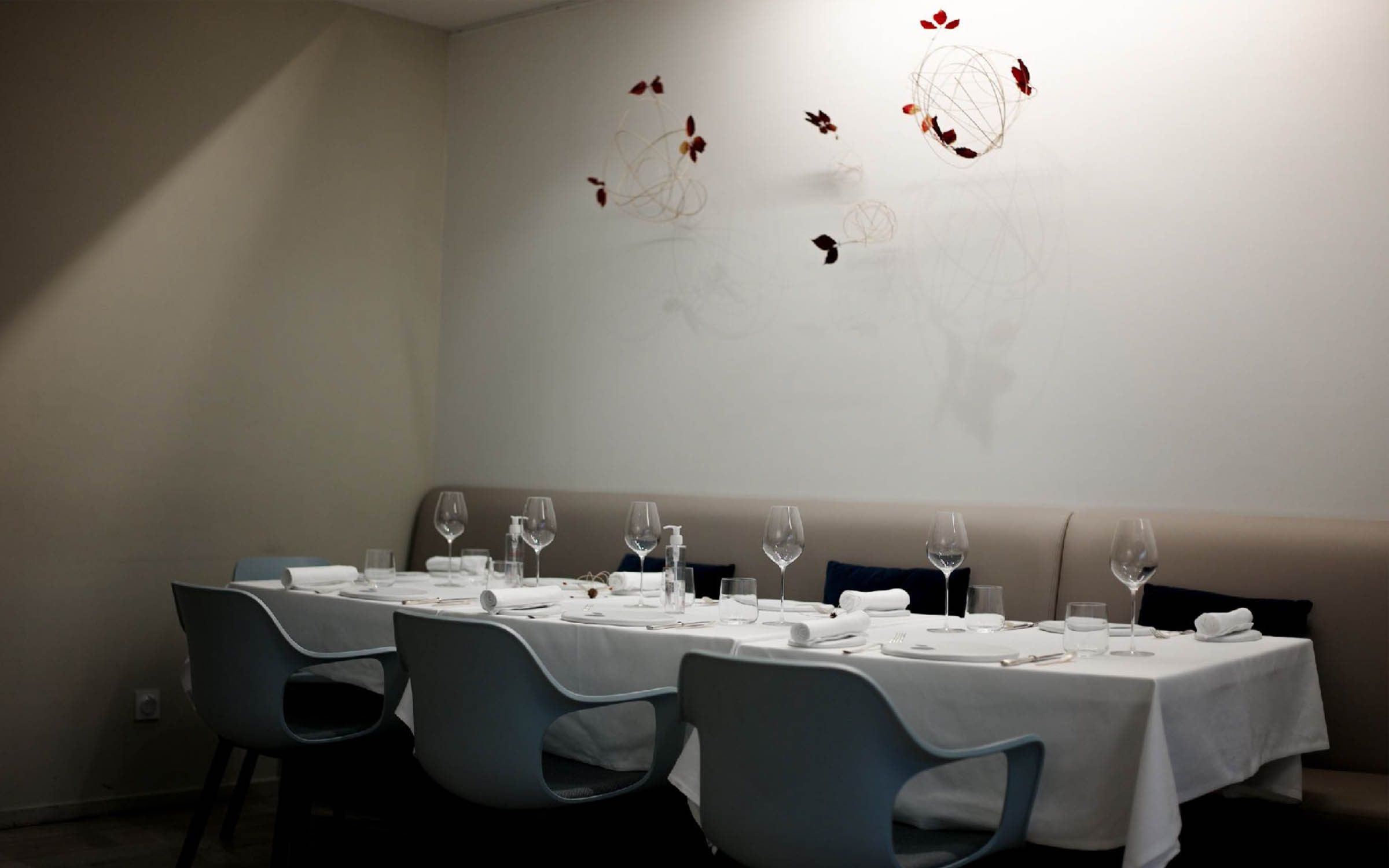 – Through the Seasons
Seasonal encounters are at the center of Johnny Lebigot's exhibitions and installations. At La Scène Thélème, his creations return to the botanic realm with Corine Miret, actress, and Isabelle Duthoit, clarinetist, with whom he presented Khady Demba, one of Marie N'Diaye's "Three Powerful Women."
For it, he had drawn "a polysemic landscape with coves for travel, ramifications to probe the heavens, shadows cast to dive…" He had hung up a few hollyhocks, in memory of those flowers that rise up and brave the sun and the wind. "The petals trembled with the breaths of his companions and reminded us of the patterns of clouds when they come alive in the heart of distant markets…" It was an installation that let the spectator wander, without circumscribing the action.
When in December 2019 Jean-Marie Gurné and Yoshitaka Takayanagi approached to him to provide La Scène Thélème with its decor, Lebigot sought a symbiotic connection with Yoshitaka's cuisine by creating emphasis over decoration — a variation, a gesture in suspension, quick to transform over the seasons and able to fade away.
–Biography of the Artist
"Born in Normandy, in the Mont Saint-Michel region, Johnny Lebigot studied literature in Caen at the end of the '90s. During that time, he wrote and collected plants and even went so far as to combine these two practices in "Brins of History," an unpublished tale which was woven from grass. At the age of 23, in conjunction with his sculpture work, this French chanson enthusiast went on to become a Cultural Programmer in Stains, where he developed works around improvised music and devoted a place for exhibitions. In 2003, he joined the team of the Théâtre L'Échangeur in Bagnole, of which he is currently Co-Director, and initiated with Régis Hebette a program around innovative forms. In 2005, at the invitation of a painter friend and film decorator who was moved by his astonishing collection, Johnny Lebigot imagined his first table entitled "La Nature et l'absence." Since then, his work has seen multiple exhibitions (about 15 to date) and in many disciplines: sculpture, installation, and performance. His poetic works are centered on a search for forms and on the confusion of kingdoms."
(Extract from the Festival D'Avignon website. Complete article: https://festival-avignon.com/fr/artistes/johnny-lebigot-9085)