For regular customers, Chef Yoshi is offering a new menu this fall, entitled "Ferme Yamashita." For it, he cooks the exceptional vegetables of three-star market gardener Asafumi Yamashita.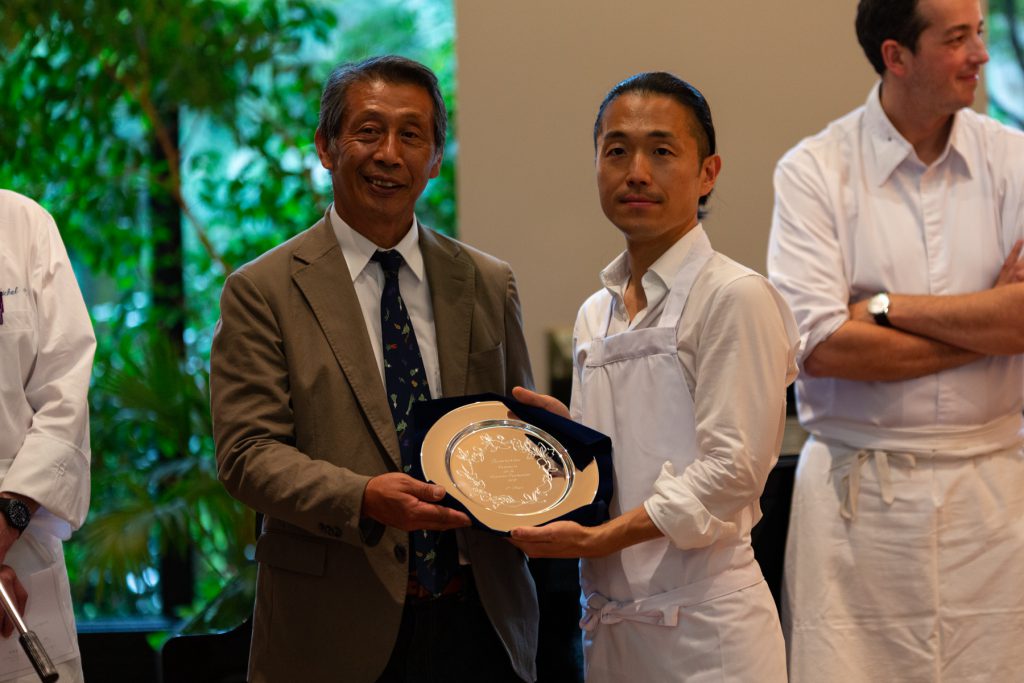 If you haven't heard of him, this famous grower only works with a few chefs whom he meticulously selects for their love of vegetables and their talent for sublimating them. And, since this year, Yoshitaka Takayanagi, is one of those privileged few.
With these natural treasures, Yoshi has imagined a largely plant-based menu while honoring his Japanese roots.
Come and discover this authentic experience where vegetables from the Yamashita Farm, located in the Yvelines, are cooked only twenty-four hours after their harvest at maturity
À la carte from September 2020 – La Scène Thélème
The "Ferme Yamashita" menu can be booked for two people at least 24 hours in advance
► 7-COURSE YAMASHITA FARM MENU: €135
For any reservation of the Yamashita Farm Menu, a jar of honey from the Farm is offered to you for two people (250g)
Menu designed by Yoshitaka Takayanagi
Basil sorbet, smoked black tea infusion, Japanese variety tomato salad
Eggplant marinated in Japanese dashi, sautéed peppers
Corn tempura and chanterelle mushrooms, old mimolette
Rice cake and Yamashita vegetables according to availability, Chinese cabbage and shiitake broth
Steamed bass, salad and marinated sardines, onion vinaigrette
Pumpkin cream with vanilla, lime sorbet
Yoshi-style vine peach
Chocolate soufflé tartlet, vanilla ice cream
Depending on the availability and the vegetables being picked at maturity, the menu above may evolve according to the inspiration of the Chef.